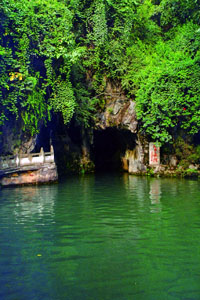 Liudongshan scenic area of Zhejiang Province, the first provincial-level scenic spots, is located six kilometers on the eastern outskirts Lanxi City, Zhejiang Province, a jewel in the tourism line of the Midwest. Area total area of 8.5 square kilometers. Containing a result of the history of beiyun,zi xia,yong xue,wu di,huh, lou dou, named after the funnel hole to Shanmei, Shuixiu, odd holes, characterized by quiet temple.


Hailed as "Unique spot Within the four seas" the whole of the underground tour 2500 meters long river, with an area of more than 25,000 square meters, sub-Yong xue hole, time tunnels, three sections Yulu hole, cave development is typical of different periods, each with the form, each with its own characteristics. Yong xue hole over a thousand meters long underground river runs through the underground, the source has not yet been proven, the temperature inside the cave year-round to maintain 18 degrees, a boat trip which feels like it's in Wonderland. Yulu opentall, this exquisite stalactite, stalagmites,silver, beautiful. "Time Tunnel"stone fantasy, in close proximity, with high ornamental value and scientific research.


Liudongshan scenic area, there has been quite quiet elegant QueenPark for generations, Ms. Zhang Xueliang patriotic general of the ancestral home of Miss Zhao Si. Millennium Temple Temple has really Chilan Collections "Tripitaka" more than 6000 volumes, the Department of Tang "West" is taken to the translation of scriptures, is to study the ancient culture of China's valuable information. Legendary Temple of the Emperor back to the Ming Dynasty emperornarrative fighting, which left for TimorZhu monk, and finally the story of this......


Liudongshan scenic area in the beautiful environment, quality service, pioneering spirit, open mind, to warmly welcome Chinese and foreign tourists.